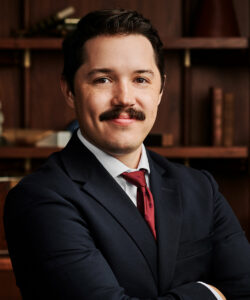 Originally hailing from New Hampshire, recent Georgia transplant Ryan Schmidt is an Attorney at The Bowen Law Group. A lawyer passionate about protecting the rights of small business owners and creatives, Schmidt's law practice focuses on business creation, contract disputes, non-compete litigation, creditor's rights, and music law.
Schmidt, who toured extensively as a singer/songwriter prior to law school has been featured on the NBC's "The Voice" and Apple iTunes' "New Music Page" and was named "Critics' Choice" at the Starbucks Music Makers Competition. As a professional musician, he experienced firsthand the cutthroat nature of the business and the restrictive contracts creatives are too often asked to sign. Answering the call to be a fighter for his fellow artists, Schmidt knew he needed to pursue a career in law. And so, Schmidt attended Belmont University College of Law in Nashville, where he graduated at the top of his class, summa cum laude, after serving as Executive Officer for both Belmont's Law Review and Federalist Society.
Before moving to Savannah, Schmidt clerked for a Nashville-based law firm representing clients in the music industry, fine arts, and digital media. Since joining The Bowen Law Group in 2018, he has represented countless clients in various business and entertainment matters.
For Schmidt, being an advocate is not only his duty but also his privilege. As a lawyer, he stands in between what is and what should be. Each day is another opportunity to narrow that gap.
Education: Belmont University College of Law, J.D., 2018, summa cum laude; Northeastern University, B.S., 2012
Bar admissions: Georgia (state and federal)
rschmidt@thebowenlawgroup.com